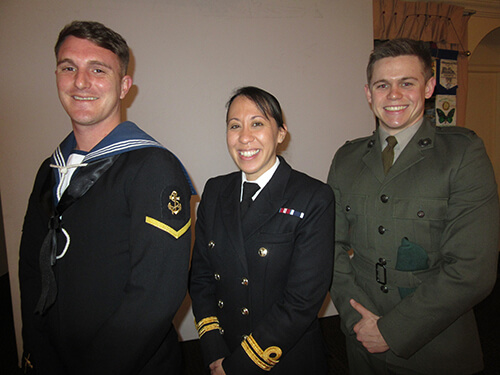 Members of the Royal Navy's Presentation Team were guest speakers at the Rotary Club of Lowestoft East Point on 6th February 2018. Lieutenant Kelly Jenkins-Hill, Royal Marine Lance Corporal Matthew McGrath and Leading Hand Peter Smith travelled from Portsmouth in wintry conditions and spoke to East Point Members, the Rotary District Governor Robert Lovick, visiting Rotarians, guests and partners.
The Team gave details of the various aspects of today's Navy which embraced military, humanitarian and diplomatic issues. The presentation included several short videos which highlighted the various aspects and the people who serve.
It was fascinating to learn that there are as many personnel working in Specsavers as there are serving in the Navy.
The Team shared information on the new aircraft carriers and the jet fighters which will be based on them, the various types of ships which will feature in the near future together with the various types of submarine which all form an integral part of today's Navy.
The presentation lasted for forty minutes after which the Team responded to questions on a wide range of topics.
Club President, Paul Tabiner said: "The quality of the presentation was exceptional and the three young members of the Team were outstanding ambassadors for the Navy. All too often we hear and read negative things about our Navy, Army and Air Force but listening to the passion and dedication that this Team have for what they do made us proud of our Navy and the outstanding service it provides for our Country."
At the end of their presentation the Team received a standing ovation from those present.
The photo shows L to R: Leading Hand Peter Smith, Lieutenant Kelly Jenkins-Hill and Lance Corporal Matthew McGrath.
For more information contact paultabiner@hotmail.com
Interested in making a difference?
Are you interested to find out more about Rotary and what we do?
If working together with a great bunch of people in a fun and friendly, social environment to help others sounds like something you'd like to be involved in, then simply click the button below and submit the simple form. One of our Club Officers will call or email you with some further information and tell how you can get involved.