Welcome to Lowestoft East Point Rotary
We are a dual gender club with 23 members. (18 men and 5 Women).
We meet at The Hotel Victoria in Lowestoft on the 1st, 3rd and 5th Tuesdays of the month
at 6.00 pm for 6.30pm.  www.thehotelvictoria.co.uk
We welcome new members of all ages – for more information contact Paul Wilkinson on
01502 733851 / 07707 748101 or paulwilk53@outlook.com
So what is Rotary you may ask?
We are part of District 1080 – "Rotary in East Anglia" – which comprises 67 Clubs across Norfolk, Suffolk, a large part of Cambridgeshire and a small part of Essex.
The membership of District 1080 is made up of 1556 active Rotarians.
We are very much a local club but we are part of a very large global organisation known as Rotary International which was founded by Paul Harris in Chicago in 1905.
There are now over 35000 member clubs across 200 countries with a total membership of 1.2 million. In the UK alone we have 39,640 members.
All Rotary Clubs are different but we are all a group of people wanting to do good work in the community by volunteering.
Our Club is a Charity Registered Club. Charity Registration No. 1073198.
Who becomes a Rotarian?
The club is a very active with a good mixture of men and women (18 men and 5 women) from a variety of backgrounds.
The main thing we look for in members is a commitment to help those less fortunate.
Rotary offers something for everyone. Rotary International is a diverse and flexible group of people who work in a variety of ways to support our communities.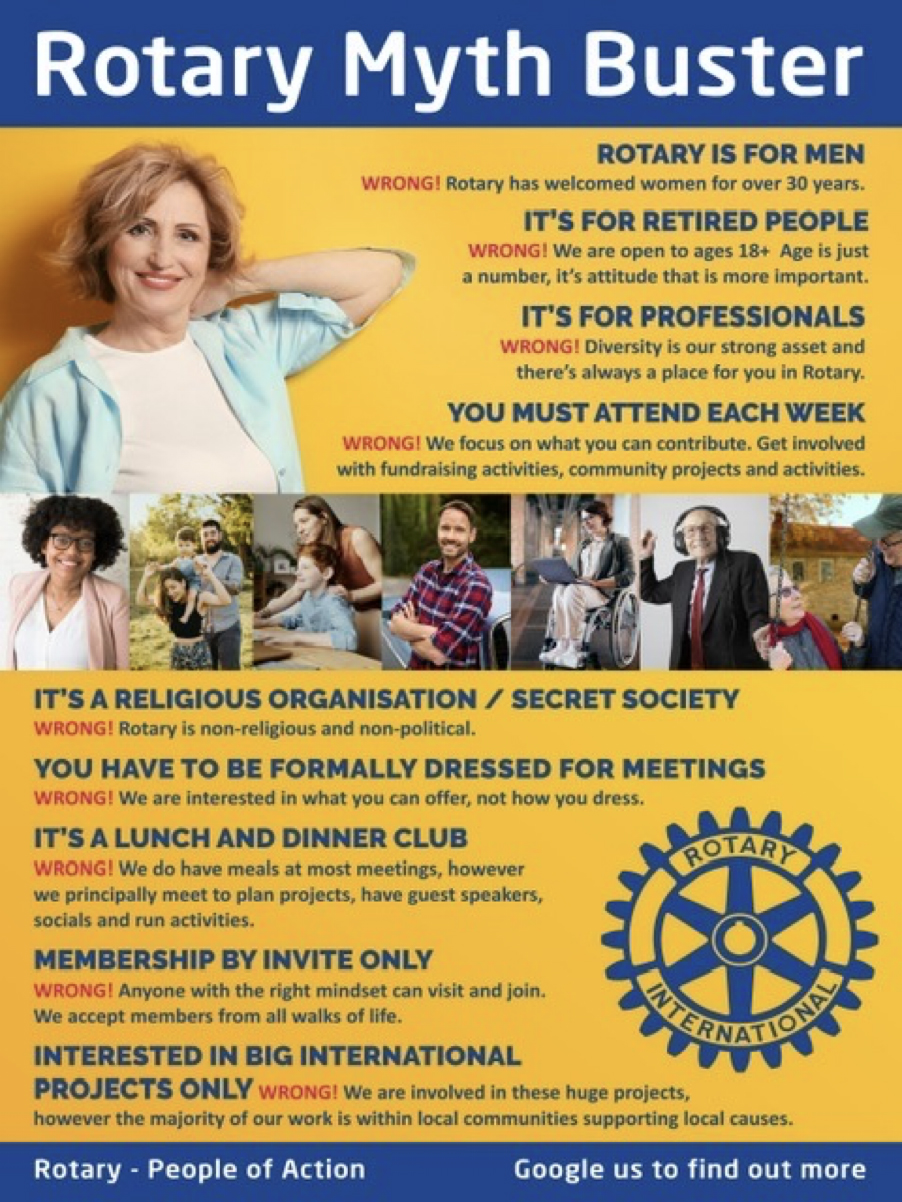 The Rotary Club of Lowestoft East Point also has a 'Friends of Rotary' Scheme .
Friends of Rotary are volunteers supporting the work of Rotarians in the community.  'A Friend of Rotary' will be invited to participate in Club activities and will be invited to selected meetings of the Club, selected Social activities of the Club and to assist in Fund Raising activities and Service Projects organised by the Club for the benefit of the local Community.
Buying something from Amazon?
Help us to raise funds for good causes at the same time.
Amazon Smile is now set up for Lowestoft East Point Rotary.
Amazon will donate 0.5% of the net purchase price (excluding VAT, returns and shipping fees) of eligible purchases to our Trust fund.
Simply click on the Amazon Smile logo to start shopping. Amazon will do the rest!
Thank you for your support.
The Rotary motto is 'Service above Self' so it is not just about fundraising.
There are various local projects in which our members are involved – such as Waveney Sailability, a sailing group for disabled people, and Kids Day Out for children from Warren School.
A very successful project which has been running of a number of years is Dictionaries for Life. Along with the other Lowestoft Clubs, we provide an illustrated dictionary for every year 3 child in the town, supporting the schools' drive to improve literacy rates.
Many Lowestoft residents probably know us best for our Santa Sleigh's ride through the streets of Lowestoft to meet the town's children and to raise money for our good causes.
These are just a few examples of the good causes that the club supports.
Upcoming Events
Our Club Meetings & Fundraising Events
Interested in making a difference?
Are you interested to find out more about Rotary and what we do?
If working together with a great bunch of people in a fun and friendly, social environment to help others sounds like something you'd like to be involved in, then simply click the button below and submit the simple form. One of our Club Officers will call or email you with some further information and tell how you can get involved.

Our website has been kindly sponsored by
Red Hot Media & Nettl of Lowestoft
Lowestoft based Graphic Design, Website Design and Full Colour Printing working for clients across East Anglia and throughout the UK.
Logo design, business cards, stationery, brochures, flyers and leaflets, posters, websites, SEO, exhibition stands and branded giveaways.