Welcome to Lowestoft East Point Rotary
We are a dual gender club with 26 members. (21 men and 5 Women).
We meet at The Hotel Victoria in Lowestoft every Tuesdays at 6.00 pm for 6.30pm.  www.thehotelvictoria.co.uk
We welcome new members of all ages.
So what is Rotary you may ask?
We are part of  District 1080 – "Rotary in East Anglia" – Most of East Anglia, including Norfolk, Suffolk, and parts of Cambridgeshire, Essex and Hertfordshire. There are 68 Clubs in District 1080. Rotary International District 1080 comprises about 1697 men and women, in 73 Rotary Clubs spanning the counties of Norfolk, Suffolk, a large part of Cambridgeshire and a small part of Essex. We are very much a local club but we are part of a very large global organisation.
Rotary is an international organisation with over 1.3 million members worldwide (July 2015) . We have over 30,000 clubs in more than 200 countries. With over 50,000 members in the UK alone.
All Rotary Clubs are different but we are all a group of people wanting to do good work in the community by volunteering.
Our Club is a Charity Registered Club. Charity Registration No. 1073198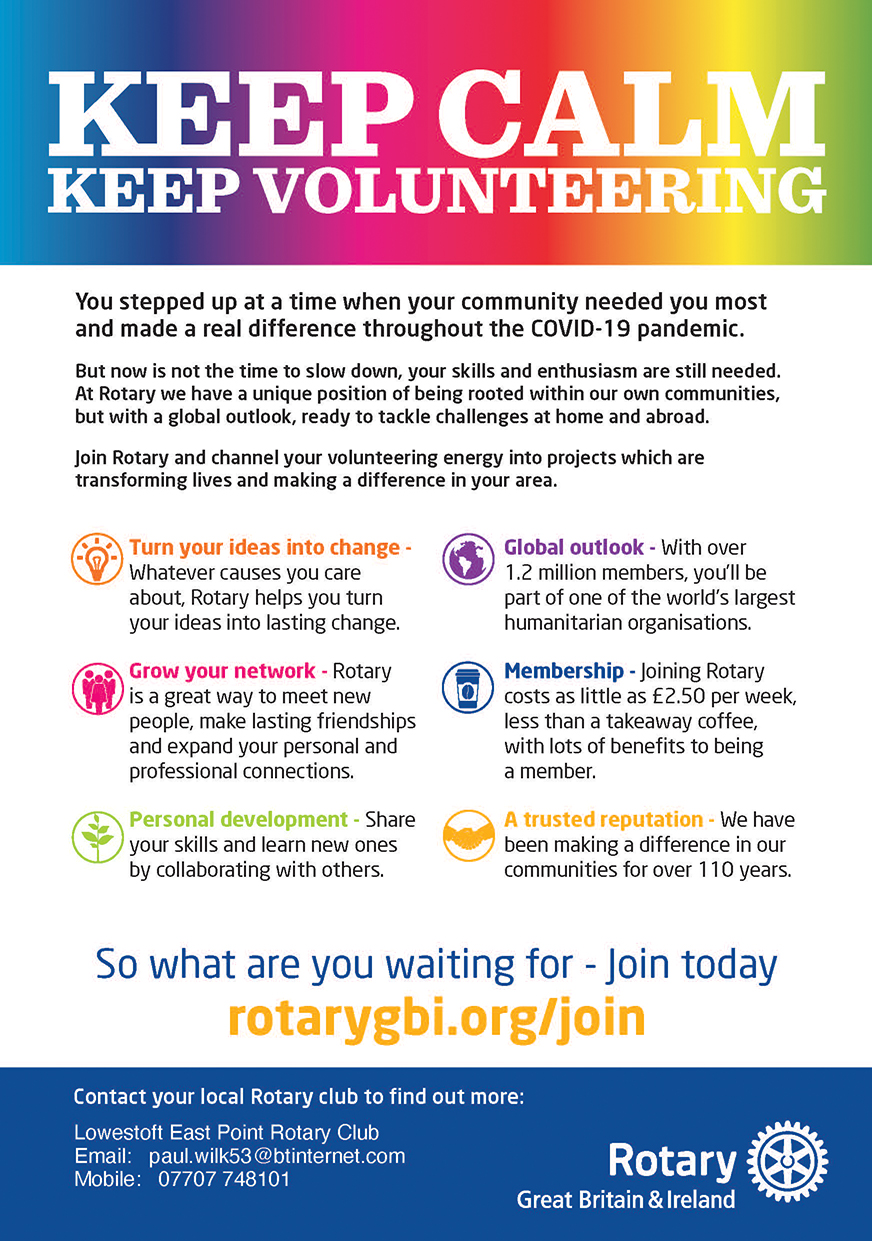 The Rotary Club of Lowestoft East Point which operates the Santa Sleigh regrettably announces that this year's event has been cancelled owing to restrictions arising from the Coronavirus pandemic.
The health and safety of the public and our members is of paramount importance and the need for social distancing means that the event would not be viable.
The Club members are disappointed that we will not be able give your children a glimpse of Santa before Christmas Day but do hope to be back next year making our door to door collections for good causes.
You can still help us to raise money when shopping online by visiting our easyfundraising page.
There are over 4000 retailers to choose from who will then make a small donation to our Charity account to say "thank you".
We wish you all a Happy Christmas and a safe and healthy New Year.
The Rotary motto is 'Service above Self' so it is not just about fundraising.
There are various local projects in which our members are involved – such as Waveney Sailability, a sailing group for disabled people, and Kids Day Out for children from Warren School.
A very successful project which has been running of a number of years is Dictionaries for Life. Along with the other Lowestoft Clubs, we provide an illustrated dictionary for every year 3 child in the town, supporting the schools' drive to improve literacy rates.
Many Lowestoft residents probably know us best for our Santa Sleigh's ride through the streets of Lowestoft to meet the town's children and to raise money for our good causes.
These are just a few examples of the good causes that the club supports.
Upcoming Events
Our Club Meetings & Fundraising Events
Interested in making a difference?
Are you interested to find out more about Rotary and what we do?
If working together with a great bunch of people in a fun and friendly, social environment to help others sounds like something you'd like to be involved in, then simply click the button below and submit the simple form. One of our Club Officers will call or email you with some further information and tell how you can get involved.

Our website has been kindly sponsored by
Red Hot Media & Nettl of Lowestoft
Lowestoft based Graphic Design, Website Design and Full Colour Printing working for clients across East Anglia and throughout the UK.
Logo design, business cards, stationery, brochures, flyers and leaflets, posters, websites, SEO, exhibition stands and branded giveaways.