Stalwart Rotarian Remembered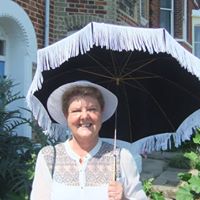 It is with great sadness and shock that the Club has learnt that one of its stalwart members, Annette Stringer, passed away on the 10th September at the James Paget Hospital in Gorleston.
Annette was a dedicated Rotarian who rarely missed a meeting, supported every social function, documented each Presidential year with a photobook, kickstarted the birthday bottle draw fundraiser, was an advocate of Dictionaries for Life and the Young Writer competition, helped fund the education of a young girl in India and so on.
Her last few years have been affected by ill health but she has remained resolutely strong in her commitment to Rotary.
We all hope that she is now at peace and it seems appropriate to remember her in happier days at a Rotary event in Southwold.
Interested in making a difference?
Are you interested to find out more about Rotary and what we do?
If working together with a great bunch of people in a fun and friendly, social environment to help others sounds like something you'd like to be involved in, then simply click the button below and submit the simple form. One of our Club Officers will call or email you with some further information and tell how you can get involved.