East Point Rotary Receives Highest International Accolade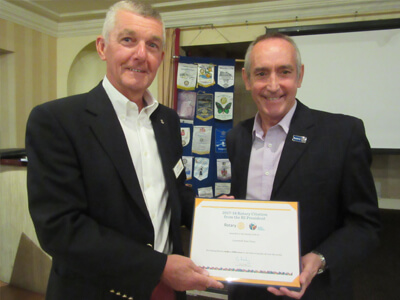 The Rotary Club of Lowestoft East Point has been awarded the Rotary International President's Citation for achievements during the year July 2017 to June 2018. District Governor for that year, Robert Lovick, made a surprise visit to the Club at a recent meeting to announce the award and present a certificate to the Club. The actual Citation will be presented to the Club at the District Conference in Ipswich later this month.
The Club was formed in 1998 and has been very active in community projects and fund raising for worthy causes. It is a dual gender Club which meets on Tuesdays at the Hotel Victoria. In July 2017 the Club set itself a range of goals which were in line with those required to be considered for a Citation. During the year the 30 or so members contributed over 1000 volunteer hours for community based projects and fundraising. A Club record of over £25,000 was raised for good causes in the local area and elsewhere.
The Club undertook a whole range of projects and made donations to a significant number of good causes.
Club President for the 2017/18 year Paul Tabiner said "This is a fantastic achievement for our Club members. These Citations are extremely rare and difficult to achieve and for the Club to receive this accolade on its 20th Anniversary is fantastic. Our members are committed to serving the community and making life better for people who we may be able to help. The Club will go on working hard and achieving great things. So if anyone is interested in joining us they can make contact through our website eastpointrotary.org. If weekly meetings are too big a time commitment then in partnership with the other Lowestoft Clubs we are preparing a new group to form which meets far less frequently and with a focus on community service."
The photos show Robert Lovick presenting Paul Tabiner with the Certificate confirming the award of the Rotary International President's Citation as well some very proud Club members.
For further information on membership please contact Sally Green on 01502 566533.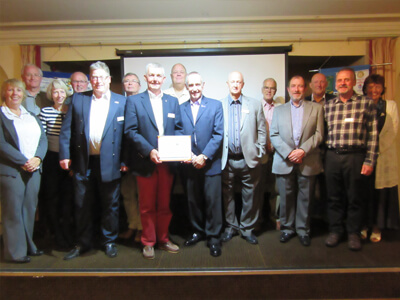 Interested in making a difference?
Are you interested to find out more about Rotary and what we do?
If working together with a great bunch of people in a fun and friendly, social environment to help others sounds like something you'd like to be involved in, then simply click the button below and submit the simple form. One of our Club Officers will call or email you with some further information and tell how you can get involved.